"She Looks into Me"
(photobook, 2018)




Format: Softcover with flaps ; 220 x 280 mm
Pages: 84 pages (42 black & white photographs)
Text by Adolfo Luxúria Canibal (Portuguese / English)
Foreword by M.F. Sullivan, Afterword by Jesse Freeman
Release date: January 2018; Limited Edition of 200 copies
ISBN: 978-989-20-8093-2
30 Euros (includes shipping worldwide)


"She looks into me" is a series of intimate images that hold a deep reverence for a time when the mystery of life and the mystery of death were closely related. Conceived in a manner close to theater this book is divided in 3 chapters that explore the idea of human representation and how looking at an image in an active way can evoke more than what is actually depicted in front of you.
To look at something is undeniably very different from looking into something and this is the genesis of this new work that borrows the title from a poem by Surrealist poet Paul Éluard.


---

"ZONA"
(photobook, 2015)




Format: Hardcover clothbound
Dimensions: 140 x 210 mm
Pages: 108 (30 photographs)
Texts by José Luís Peixoto (Portuguese / English / Japanese)
Publication date: December 2015
Limited edition of 300 copies
ISBN: 978-989-20-6083-5
35 Euros (includes shipping worldwide)


Done between Tokyo and Lisbon, ZONA is a project that emerged directly from faded memories and notes from a dream-diary. After many sketches the project grew into a photographic documentation of different interior landscapes and situations.
ZONA explores both a mental and physical space - an attempt to represent the unconscious mind and the symbolic nature of archetypes. Always, with a heavy dose of poetry involved.
Nuno's previous work, State of Mind, dealt with people absorbed and lost in their thoughts, in ZONA there's a necessity to delve deeper into this particular arena and see how we think and what are our fundamental fears and emotions.
The narrative of this series follows a single live-performance and is somewhat similar to a dream experience – one feels both familiarity, intimacy and strangeness.
The result is a sensuous, quiet and dark book, delivering images with a memorable cinematic quality.


---

"State of Mind"
(photobook, 2013)




Format: Softcover
Dimensions: 287 x 200 mm
Pages: 112 (79 photographs)
Publication date: December 2013
Limited edition of 500 copies
ISBN: 978-989-20-4151-3
35 Euros (includes shipping worldwide)


State of Mind is a photographic series, and ultimately a book, about the individual quality of mysterious strangers. The images were captured over a period of several years traveling in countries such as Japan, Portugal, Hungary, Malaysia, Spain, South Korea, Romania, Russia, Taiwan - and what emerged is a visual narrative on the poetic quality of individuality and what it means to be lost in thoughts. The State of Mind series is about the "thinking moments" and the uncertain atmosphere surrounding the people and places encountered on the way.


---

"State of Mind"
(booklet, 2011)

SOLD OUT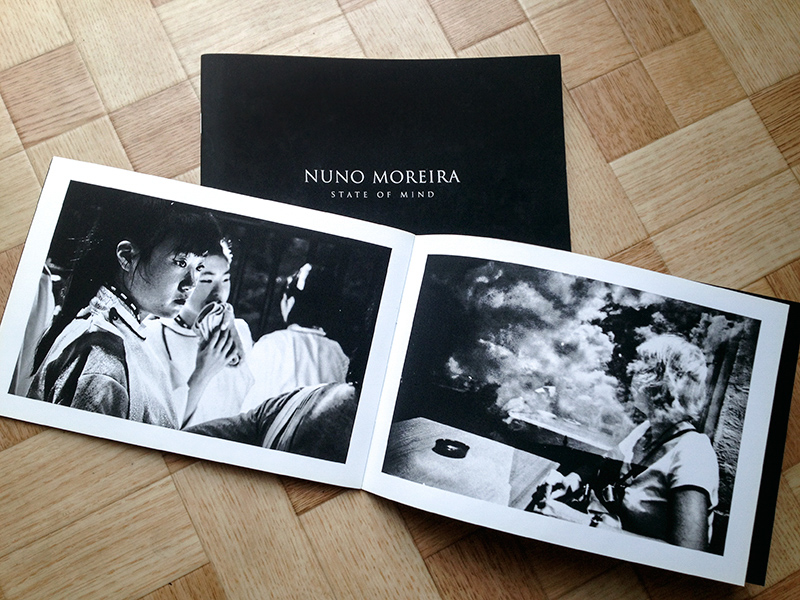 Printed fully in 170gsm fine velvet paper
Dimensions: 210x145mm
Pages: 26
Publication date: November 2011
Limited numbered & signed edition of 100 copies


---

"caindo depressa de um sonho"
(booklet, 2011)

SOLD OUT





Photos by Nuno Moreira & Carla Fragata
Printed in 170gsm fine paper with velvet cover
Dimensions: 210 x 145 mm
Pages: 50
Publication date: June 2011
Limited edition of 100 copies